ZortifySelect
Find the Perfect Match Between Personality & Position
Why zortifySELECT?
Addressing HR's Biggest Challenges
Traditional recruitment processes are prone to bias and unreliable intuition, necessitating a more in-depth understanding of a candidate's personality. However, most personality assessments are limited, focusing solely on one theoretical model, such as the Big 5 factor model, and neglecting other personality frameworks. Additionally, they often employ forced-choice questions, resulting in incomplete information that could lead to misguided selection decisions. Such errors in judgment can negatively impact the alignment between the individual, their role, and the organization, potentially resulting in high turnover and substantial costs—up to 33% of an employee's annual salary.
Our Solution
ZortifySelect is specifically designed to enhance people-related business decisions. It stands as a valuable resource for organizations looking to refine their employee selection, onboarding, and succession planning processes.
As a cost-effective selection tool, ZortifySelect enables recruiters and decision-makers to gain a comprehensive understanding of a candidate's personality profile, thereby enriching the interview process with deeper insights to ascertain their fit for a specific role. This additional, objective layer of information on critical personality traits minimizes the influence of human bias.
Easily integrated into existing recruitment workflows, ZortifySelect is applicable across all tiers of human experience management. Moreover, it elevates the overall candidate experience, offering meaningful feedback even to those not selected.
We recommend a combined approach: leverage both HR expertise and the insights provided by ZortifySelect. Initiate the process with a personalized interview, followed by the utilization of ZortifySelect post pre-selection to augment your final decision-making with a more objective perspective.
Why choose zortifySELECT
The Zortify Personality Assessment stands out as a vital tool for personal learning and development, delivering unmatched insights into personality traits and states predictive of workplace success. It encompasses the Big Five personality traits model, the Entrepreneurial Capital personality states model, and the Counterproductive behavioral tendencies model, ensuring a holistic understanding of an individual's strengths and areas for growth.
Combining both quantitative and qualitative questions, the assessment evaluates stable personality traits as well as more adaptable personality states.
Exclusively developed in Luxembourg for the European market and based on extensive research involving thousands of adults from the region, the Zortify Personality Assessment is non-invasive, easily administered online, and provides immediate results with customizable reports for professional growth.
Available in English, German, and French, this assessment proves invaluable for organizations at every level of human experience management.
How it works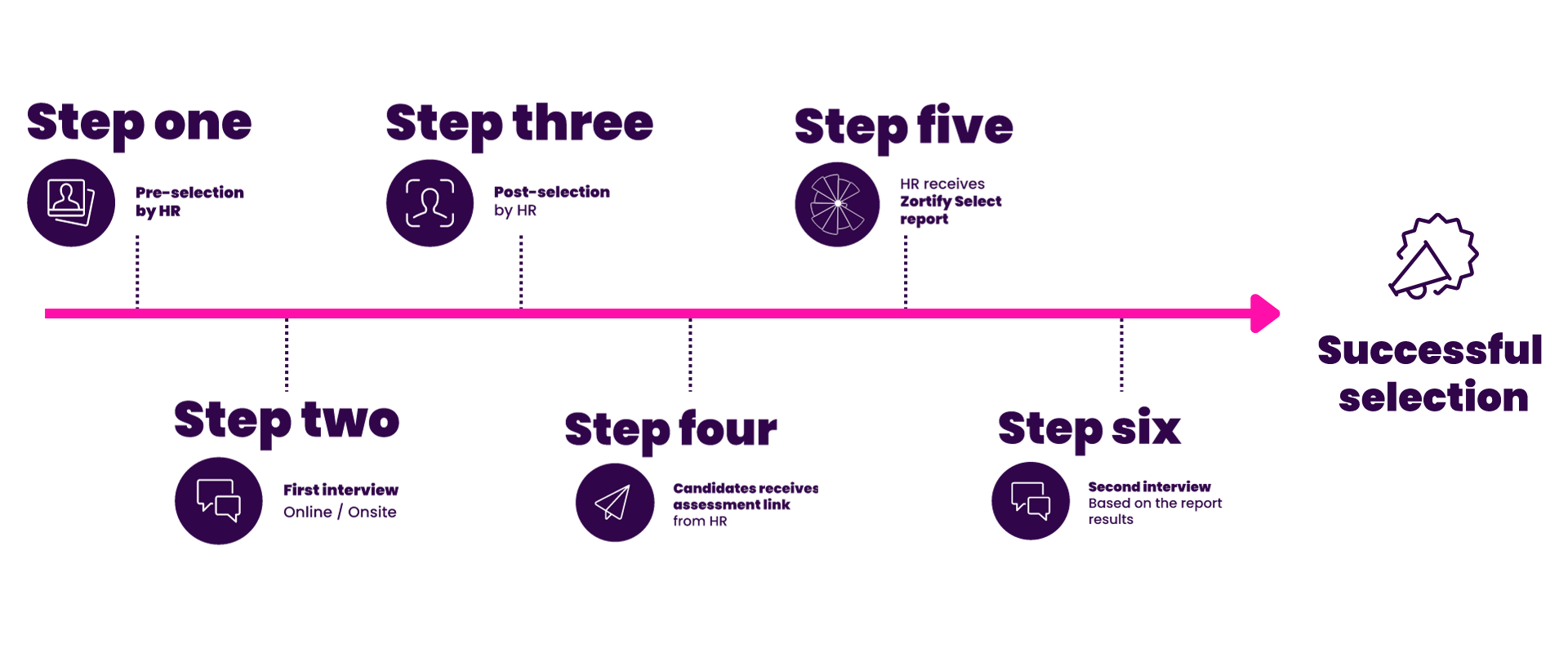 You might also be interested in